JNTUK 1-2 (R16, R13, R10) Supply Time Table 2019 Download For B.Tech/B.Pharm: JNTU has three major universities which also includes the JNTU Kakinada which offers different UG courses which includes the B.Tech and B.Pharmacy so to conduct those examinations and for the ease of the students the University releases the Time Table prior to the conduction of exams as it will enhance the confidence of the students also because if the hall ticket is issued at last time the students may get very little time to study so timetables are issued online as well as college level, so the college principals or authorises can paste it made publically available to the students.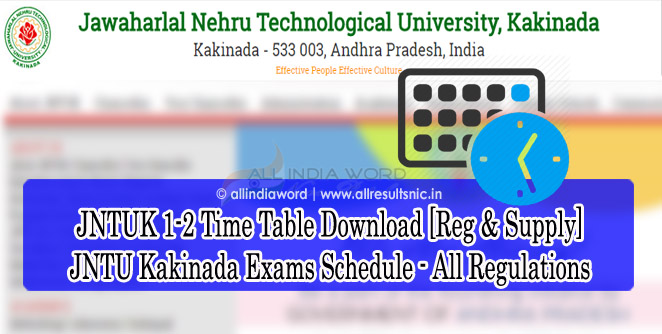 The candidates who have the internet connective can download JNTUK R16 B.Tech Time Table 2019 (for Regular) or JNTUK B.Pharmacy Time Table 2019 based on their stream they  have chosen at the time of admission in the college, others who don't have internet connectivity with their phones can take timetables from their friends or take photos from the posted notice board if the college authority allows, or simply can note down in the notebook. To get latest updates on JNTUK Timetables, for engineering and Pharmacy you can stay tuned with us. For Jawaharlal Nehru Technological University Kakinada updates follow us on Facebook. If you need any help regarding the queries to Grace Marks, Skipping 2 Subjects Rule and other you can start the discussion in the comments and we will try to ping back with the most asked query.
JNTUK 1-2 Regular & Supply Exam Time Table 2019 Download
| | |
| --- | --- |
| JNTUK B.Tech 1-2 (R16) Supply Time Table 2019 |  Download |
| JNTUK B.Pharm 1-2 (R16) Supply Time Table 2019 |  Download |
| JNTUK B.Tech 1-2 (R13) Supply Time Table 2019 |  Download |
| JNTUK B.Tech 1-2 (R10) Supply Time Table 2019 |  Download |
| JNTUK B.Tech 1-2 (R07) Supply Time Table 2019 |  Download |
| JNTUK B.Pharm 1-2 (R13, R10, R07) Supply Time Table 2019 |  Download |
For the Mid Exams (Mid 1, Mid 2) also and other than that Supplementary or supply candidates (Example: R13, R10 Regulations) Example, they can also get the Supplementary Time Table online, the B.Tech course is a complete 4-year course with various branches like Mechanical, Civil, IT, CSE, EEE, ECE, etc, if you gonna ask about the date when is the schedule being Released then it's dependent on JNTU Kakinada than how they prepare it and how they put it online or sends to respective colleges. You can forward the timetable over the WhatsApp, share on Facebook and other social media networks. Still, have doubts about the JNTUK 1-2 Time Table then ask us by comments. Try to appreciate our work by giving a simple share on Facebook.
How To Download JNTUK 1-2 Examinations Time Table 2019
First, you have to check the links which we may provide after the official release of the time tables
Else if the officials allow students to download directly then you can download it from the official website
Download and save it in your Device and it could be in Word or PDF format usually
Open it and check details, in case if needed note down or take a print for simple understanding
You may ask your college management also for official time table.