JNTUK 2-1 (R20, R19, R16, R13)  Time Table 2023 Download B.Tech & B.Pharm: JNTUK 2-1 Time Table 2023 Download (Regular & Supply) – JNTU Kakinada: The University [Jawaharlal Nehru Technological] releases the exams time table for the 2nd year students who have been studied the first year and moved to 2nd year of the course of B.Tech or B.Pharmacy for all regulations like R16 (Reg), R13, R10, and R07 which does include regular (first-tim3 attempt to the subjects) and supplementary for the candidates who were not able to clear in the very first attempt, although JNTUK releases the examination dates & timing prior to the exams and issuing hall tickets for the ease of the students to manage timetable, etc.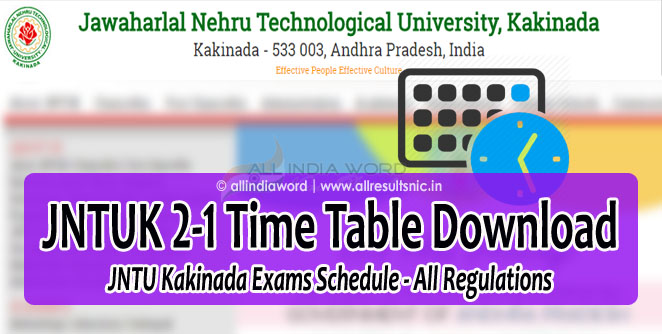 After the exams for the first year, the students may be given some holidays after which the new semester will begin in which their new year, of course, will start, each year have 2 semesters separately in which may have a class for around 6 months per semester, later by the end of the semester the JNTUK announces the JNTU Kakinada 2-1 Time Table for the first sem of this year, students can refer the schedule so set goals to study as per their convenience or based on the subjects and holidays which are mentioned the file and it may be very useful for students.
JNTU Kakinada 2-1 Regular & Supply Examinations Time Table Download
JNTUK B.Tech 2-1 (R20) Regular Time Table 2023
 Download
JNTUK B.Pharm 2-1 (R20) Regular Time Table 2023
 Download
JNTUK B.Tech Regular/Supply
2-1 (R20)
2-1 (R19)
2-1 (R13)
JNTUK B.Pharm Regular/Supply
2-1 (R20)
2-1 (R16)
2-1 (R07)
Here we have provided you the information but we will keep updating it based on the release by the JNUK, although students till then can share this web page with your friends as this may be very useful to them also for getting the latest JNTUK updates, apart from this all students can follow us our Facebook page so that any information posted there can be accessed by students simply if students facing issues to download, they can comment their issues and we will try to get back to you very soon, you can also drop subscribe to our updates as you may get email updates based on time, etc, this time table is released for all branches of B.Tech like Mech, ECE, EEE, CSE, Civil, IT and others, etc.
How To Download JNTUK 2-1 Time Table 2023 For Batches R16, R13, R10, R07
Whenever the Timetable is released, we may update it over here on this page.
Students shall check it and based on relevancy, select the most appropriate one like Regulation/Reg/Supply, etc.
Download it through the link and it will start to begin the downloading of the file.
The file is saved to the Mobile/PC/Laptop's memory & students can access it through a PDF reader.
Now open the file and recheck whether the download one is correct or not, that's it.