JNTUK MBA/MCA 4th Sem Time Table 2022 Download: The students of JNTU Kakinada who got admission for the Post Graduation courses like MBA (Masters in Business Administration), MCA (Master in Computer Applications), this is a two-year program conducted in 4 semesters, each year have 2 semesters and this is the final semester where the students going to appear for the last time Regular examinations, even those who had backlogs can appear if the JNTUK allows doing. Students after completing their 3/4 year degree will join the Post graduation courses, and now it's the final semester of the entire degree for MBA or MCA.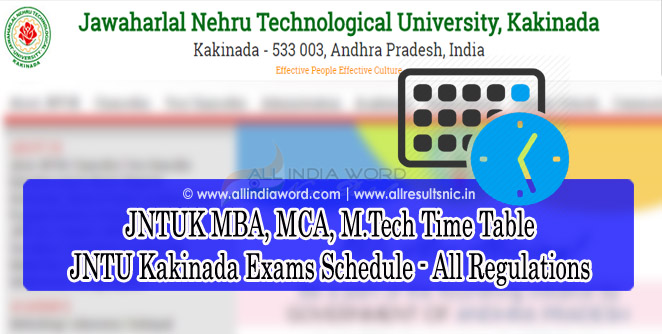 JNTU Kakinada like every year may organize the exams and release the timetable for the students which are useful to get exact exams dates (if not postponed) for instant reference purposes; there will be new batches every year to get admission into the MBA or MCA Courses. To prepare for the coming exams and start learning even in group studies (if better) or alone whichever is preferable and better for the student they can make a schedule to start so they may need JNTUK MBA/MCA All Sem Time Table 2022 and JNTUK M.Tech All Sem Time Table 2022 which can be available very prior to exam expected around 20 days before (Just expected and actual dates may vary).
JNTUK MBA/MCA/M.Tech All Sem Time Table 2022 Download
JNTUK MBA All Sem Regular Time Table 2022 – Download
JNTUK MCA All Sem Regular Time Table 2022 – Download
JNTUK MBA/MCA All Semester Supply Time Table 2022 – Download
JNTUK M.Tech Regular/Supply All Semester Time Table 2022 – Download

Name of Conducting Authority: 

Jawaharlal Nehru Technological University, Kakinada

JNTUK Reg/Supple Time Table Release Date:

 Update soon

Official website: 

www.jntuk.edu.in
Do you need notification or information directly through mail or SMS (Short Message Service) when time table is released and information about Results and other important JNTU Updates or JNTUK Time Tables then simply subscribe to us, to get subscription simply fill up the short form available on the right side of the website and select your University and submit it, we may give you more updates, and if you think it can be beneficial to your buddies or friends than do share it with your friends also. Later we may update information regarding the Marks memorandum, PC, CMM, OD (original degree), and other useful things and you can appreciate our work by simply sharing this website on social media with your colleagues. Stay tuned and Stay updated.
How To Download JNTUK MBA/MCA or M.Tech All Sem Time Table 2022
We will upload it over here on our website or give you direct links to download
In another case, you can visit the official website and check your Regulation, batch, year, and semester and download it.
You may also reach the college to get information about the timetable if released.
You may also take print of the timetable of your branch or Subject.
'All the best for the best cause to all the students from our side.
Come back to our website for Results information for MBA/MCA/B. Tech or any other JNTU Result information is available here.