JNTUH 1-2 Regular/Supply Time Table 2020 Download – JNTUH 1st Year 2nd Sem For B.Tech & B.Pharm: JNTU Hyderabad is one of the popular universities in the states because of affiliation to the engineering colleges, based on certain factors JNTU started about checking college standards etc, apart from this recently there is 'JNTU Correction' issue was on top in the first quarter of 2020 anyhow after all the step was taken by the JNTUH on R16 regulation than it shall have 2 semesters per year and based on same the subjects and the syllabus has been divided, this is the first time the R16 Regulation will be writing the 1st Year 2nd Semester Time Table 2020.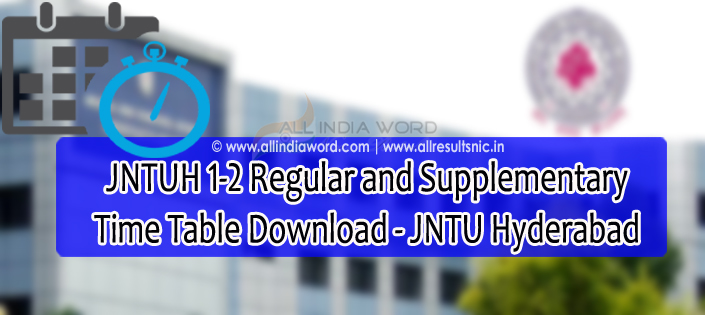 There are various branches in B.Tech like Mechanical, Civil, CSE, EEE, ECE, IT and others; each branch will have various subjects. Usually, there are six subjects per semester and for the same the Mid Exam (Mid 1, 2 or 3 if conducted) timetable and End-Semester Exam Schedule to be announced. Once the Jawaharlal Nehru Technological University-H releases it, students can check their date wise subjects, and it is useful in many ways as it can be used to prepare as per the schedule for JNTUH R16 1-2 Exam Time Table 2020, here we may update directly latest timetables or give you direct links to downloads. Usually in rare cases, there may be the postponement, but usually, the normal schedule is followed. For more on JNTUH Exam Time Tables 2020, you can bookmark our website, you can subscribe us via Notifications widget or email/SMS list as we may send you updates directly. Supply candidates for regulations like R15, R13, R09, R07 may also get it online. And Hall Tickets collect from your respective colleges or universities.
JNTUH 1st Year (1-2) Regular & Supply Exam Time Table 2020 Download


[Exam Date: 16-07-2020 to 24-07-2020]
| | |
| --- | --- |
| JNTUH B.Tech 1-2 (R18) Regular Time Table 2020 |  Download |
| JNTUH B.Pharm 1-2 (R18, R17, R16) Regular Time Table 2020 |  Download |
| JNTUH B.Tech/B.Pharm 1st Sem (R17, R16) Supply Time Table 2020 |  Download |
| JNTUH B.Tech/B.Pharm 1st Year (R17/R16) Supply Time Table 2020 |  Download |
| JNTUH B.Tech 1st Year (R09, R07) Supply Time Table 2020 |  Download |
| JNTUH B.Pharm 1st Year (R15, R13, R09, R07) Supply Time Table 2020 |  Download |
And for the first year 1-2 sem students they have to complete more 3 years (6 Sems) whether it's in B.Tech or B.Pharmacy, they can prepare well for the upcoming exams after the JNTUH R16 B.Tech and B.Pharm Time Table is out, and candidates shall know about the Grace Marks, Exemption of Subjects system in JNTU and much more. Don't believe in false rumors may be spread before the exam or in between the exam regarding the cancellation of the exams. First, the candidate shall confirm from the college and official authority; you can stay tuned with our website also as we may also update about this.
How To Download JNTUH 1-2 Examinations Time Table 2020
As of now, there is a dedicated website for the JNTU where all the timetables are updated/uploaded
Visit that official website or check out the links which may provide for direct downloads
Download it in your Device and open with the supported file format opener example PDF or Word
Take print if you want to but it's optional as you can also note down the dates
You may also ask college authorities for the Official time table.